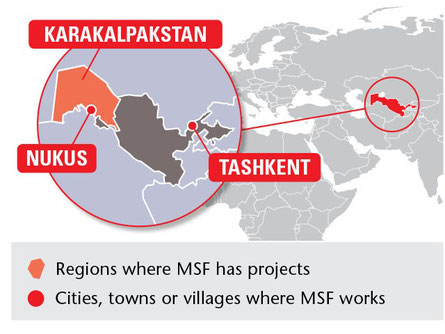 Deutsch hier.
We see ourselves as a Social Business, even if formally we are a for-profit company. What we want to do is help change the way textiles are made by using a different material, and to alleviate the damage wrecked by today's cotton production. Profit is necessary to pursue our goals, e.g. by financing investments, but not a goal on its own. 
This is why we want to invest a part of our profits into projects that help the victims of cotton production. We have teamed up with "Doctors Without Borders", who are conducting medical relief projects in Uzbekistan, more precisely in the city of Nukus, the capital of the southern Aral Sea region (a place called Karakalpakstan). This corner of the world is suffering terribly from the dry-up of the Aral Sea, which has been caused mainly by cotton production. 
The dry-up has led to water scarcity, economic decline and the dispersion of toxic chemicals in the region, which were stored in the seabed and are now blown throughout the region with the dust. The results are high levels of cancer, respiratory diseases, birth defects and a host of other diseases [1]. The ratest of these conditions are astronomic; the rates of asthma and thypoid are about eight times the national average, and the region is a hot spot for tuberculosis.
Since Uzbekistan is a very repressive dictatorship, the apolitical Doctors Without Borders are one of the very few NGOs left; other NGOs who tried to help there have long given up. In Nukus, Doctors Without Borders is currently conducting a project that evaluates a shorter and less complicated way of treating tuberculosis, a measure in their year-long efforts to help people with this disease in the region.
In the long run, we aim for investing about 25% of our profits into projects like this. However, we won't put a fixed price tag on it. We do not want to get into a situation where we are not capable of donating amount X and feel incentivized to start fiddling with the numbers to make it appear we are keeping a promise we cannot keep. Instead, we want to pursue our way of making things as transparent as possible and explaining our decisions.
Notes:
[1] Small, Ian/van der Meer, J./Upshur, R.E.G. (2001): Acting on an Environmental Health Disaster. The Case of the Aral Sea, Environmental Health Perspectives 109 (6), S. 547-549.