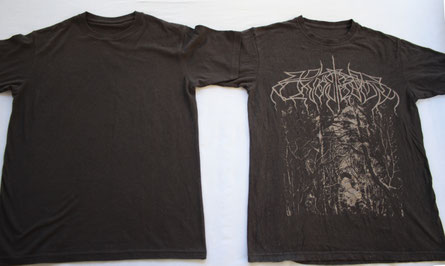 Deutsch hier.
To check how well the black dye stays fresh in our hemp shirts, we did something you shouldn't do: We washed our shirts the way many of you (and, to be honest, also we) probably do.
40°C, colour washing powder, hard water without decalcifier, spun dry at 1,600 rpm. The one thing we didn't do was tumble dry the shirts. 
The result after 10 washing cycles is the image in this blog post. The left shirt (without print) is a fresh one, the right shirt is the washed one. Pretty ok, if you ask us. Please note the washed shirt hasn't been ironed.
Had we washed the shirt as one should wash a black shirt, the result would have been even a lot better. So here's our tips for washing your favourite black (or otherwise coloured) shirts:
Wash your shirts less, and use a short program. Water and detergents wash the dye out of the fabric, no matter what kind of magic stuff you use. So the more you wash, the more the colour will fade. Remember that hemp has antibacterial properties that inhibit the emergence of odours? If your shirt isn't really dirty, but just worn, airing it out can often refresh it without the necessity of washing. 
Use cold water if possible. The hotter the water, the more it washes out the dye. For light dirt or refreshment, 30°C should be enough. 
Turn your shirt inside out. While inside the washing machine, it rubs against other clothes, which causes the fibres to break - you see less colour even if no dye has been lost! So protect the outside of your shirt (as well as the print) by turning it inside out.
Use liquid detergent. Powder often contains bleaching agents and tend to leave white residue on the clothes because it doesn't dissolve completely, especially if you wash with cold water (which you should). Special detergents for black clothes don't seem to have any real effect.
Use decalcifier if you have hard water. You can check this on the website of your local water supplier or with a test strip from the supermarket. Hard water makes black clothes grey faster, and it increases the need for detergent - which again washes out the dye more quickly.
Skip the dryer. Heat is your black shirt's enemy. And it's best to dry your clothes not in direct exposure to sunlight. While hemp is very resistant to UV rays, the black dye probably isn't!